Coticcio beach - A short hike discovering one of the best and hidden beaches in Sardinia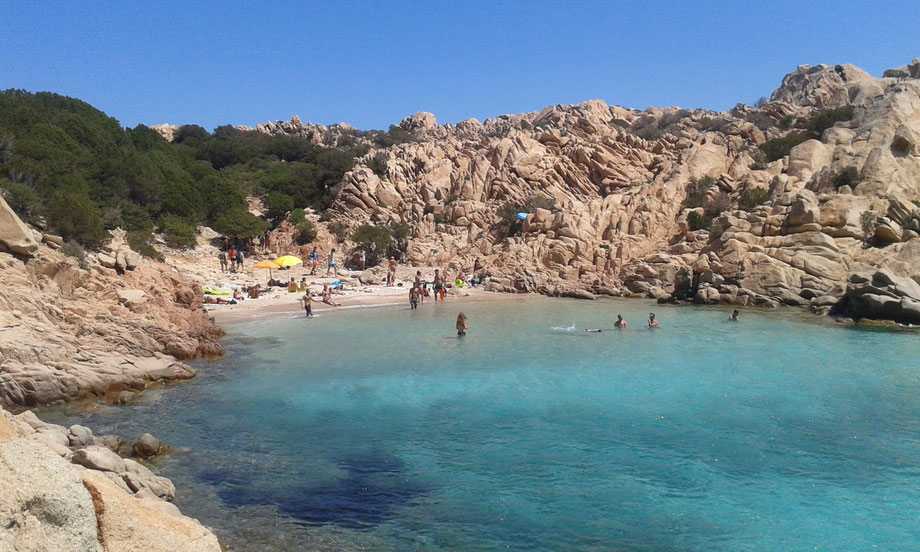 Cala Coticcio beach is on Caprera Island, in the Maddalena Archipelago (Sardinia - Italy) and it's so beautiful and wild that it doesn't seem real. It is a small piece of fine and white sand set in turquoise waters and surrounded by rocks shaped by the wind and a fragrant mediterranean vegetation.  You can reach it walking down an easy track which requires a little bit of attention and a good phisical shape. Your effort will be widely repaid.
How to get there
To go to Cala Coticcio you have to reach Sardinia first, by ferry or by flight.
If you choose the flight + car hire option, Alitalia and the most famous european low cost companies such as easyjet and ryanair fly to Olbia from the main european and italian cities such as Milan, Turin, Venice and Naples. Booking in advance is the best idea to get your ticket at a very good price.
If you prefer the ferry  + your own car option you can go to Olbia port from Genova, Livorno and Civitavecchia. You can book your trip on Moby Line website, a company which can count on modern and comfortable ferries.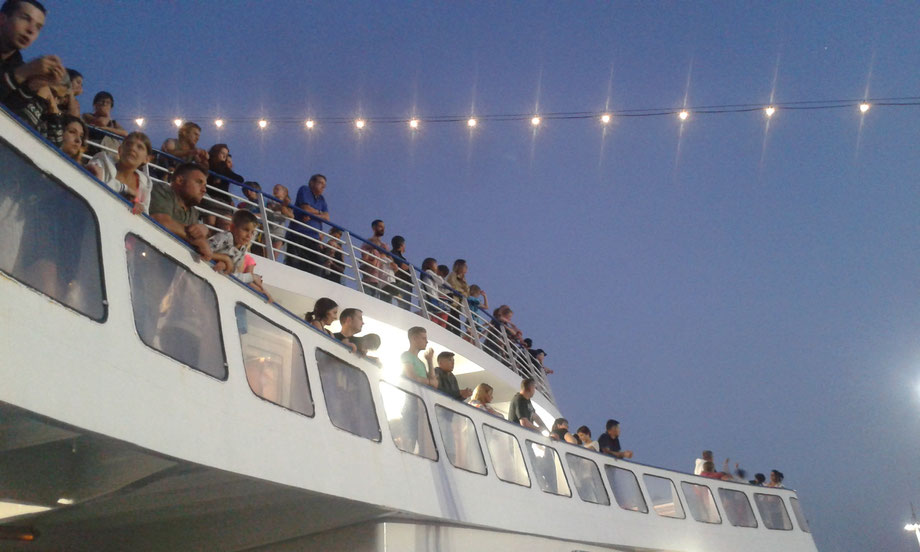 Once arrived in Olbia, drive towords Palau, along the highway 125. In 45 minutes you'll arrive at the port where you'll be able to buy your ferry's tickets, both for passengers and your car. The shipping company which operate ferry services  between Palau and Maddalena Island is Delcomar. From the early hours in the morning during summertime, there's a ride every 30 minutes. Find all the information you need on timetable and prices down here:
After landing on La Maddalena island cross the Moneta Bridge (Benvenuto Cellini road) which will take you on Caprera Island, then follow the signs to Garibaldi Memorial and Arbitucci Battery.
The road is awesome, very scenic, and while you go up the hill the maritime pines and eucalyptus trees give way to the mediterranean scrub.
Before reaching the Memorial you'll find on the right some room to leave your car. You'll notice it because there are always car parked there, above all during summertime. Anyway the parking is on google maps. Impossible not to find it.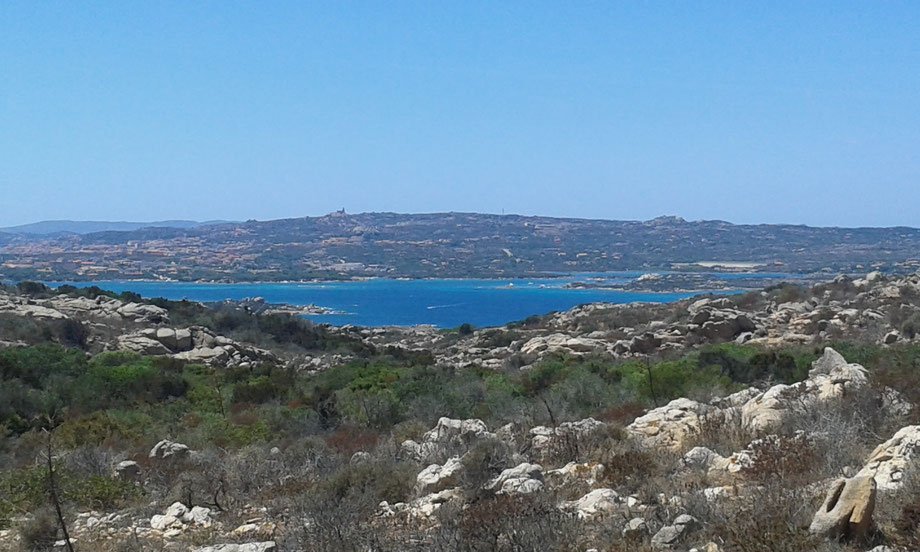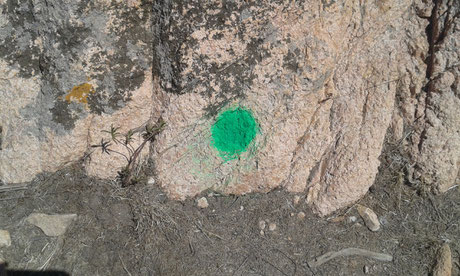 The path that leads to Cala Coticcio is not difficult, but you have to be very careful.
Put on comfortable shoes, even better if they are hiking shoes  because the ground can be tricky if you are not accustomed to that kind of tracks. Bring with you water, some sunscreen, sunglasses and a hat to protect yourself during summertime.
Along the path you'll find some green signs (photo on the right) you need to follow to find the right way, even if it's quite clear. Enjoy the amazing view on a blue sea in the distance and when the path is getting steep pay attention !
You'll arrive soon on a beach with boulders and debris, don't worry, you're not arrived yet, but you'are almost there.  Go along the path on your right, through the mediterranean scrub. In a couple of minutes an amazing view on a crystal clear blue sea will open  in front of you. The white sand of Coticcio Beach is under your feet. It takes 30 - 45 minutes walk to get there, but you'll get repaid with a wonderful day in a unique scenario. 
The beach is quite tiny and located in a wild environment. There aren't toilets nor restaurants so be sure to have with you all you need to spend the day there (as I said before don't forget water ).   There's a very little natural shadow so you can bring  a beach umbrella with you even if it is not comfortable to be carried and there is little room to plant it.
If you go there very early in the morning you have the chance to choose the best place to stay.
Here some pics of the beach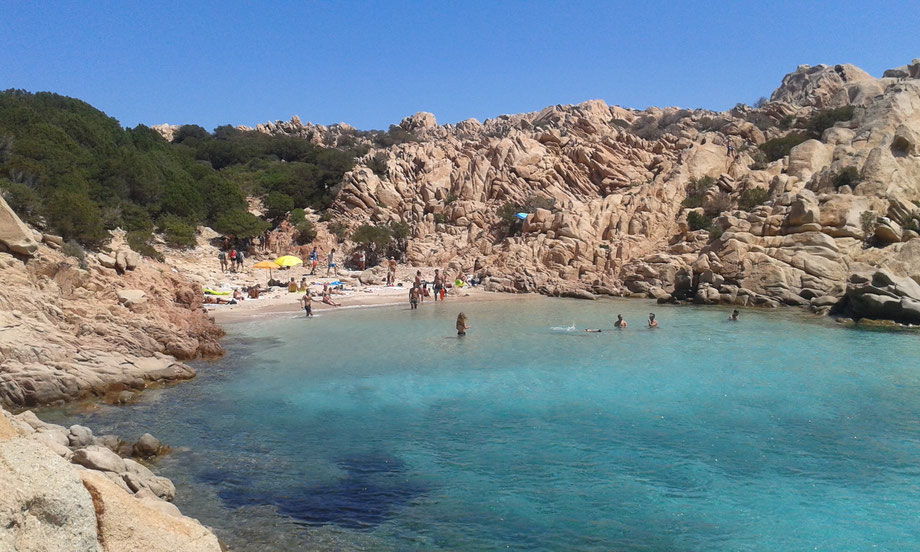 Just the last piece of advice: spare some energy and water to go back to your car. The way  back is steep is going to be hard  ;-)
see you at the next adventure