Discover an enchanted world where nature, hospitality and tradition will make you live a unique experience.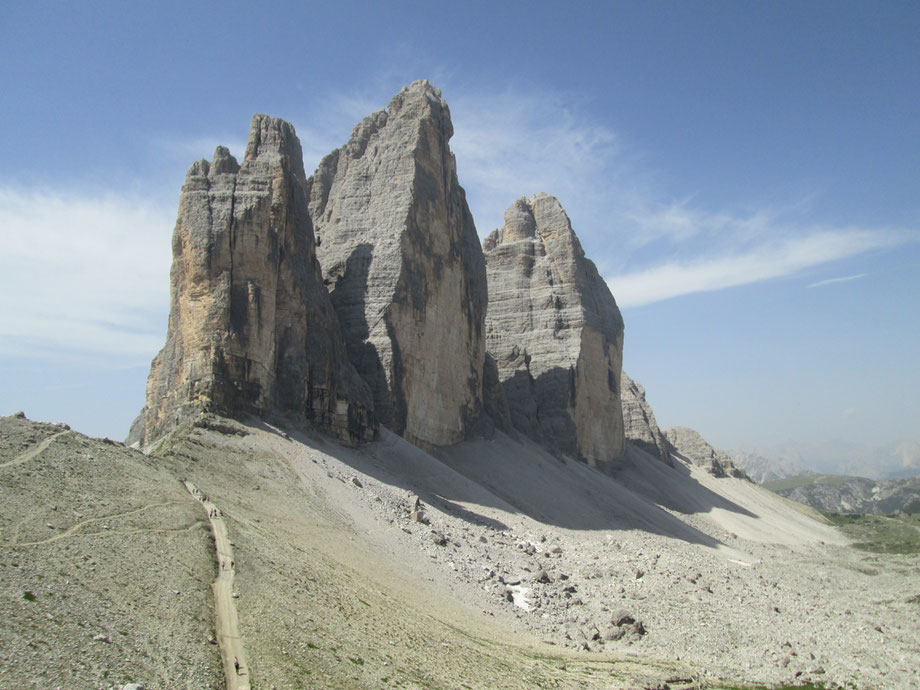 The High Pusteria Valley is certainly one of the most beautiful dolomitic valley, one of my favourite.
Its territory  is characterized by a surprising nature. Think about  Dolomites , Unesco world heritage since 2009, such as the famous Tre Cime di Lavaredo (Drei Zinnen), or alpin lakes such as those of Dobbiaco and Braies, or pines' and fir' woods and wide open incredibly shiny green meadows.
If you are lucky enough to visit this amazing place, you'll be able to discover an enchanted world following paths and tracks of all types and difficulties, riding horses and bikes and why not, relaxing yourself in a swimmingpool or in a wellness centre. Don't forget to taste all the traditional dishes served in the valley's huts.
You'll see the healthy effects on your body and on your mind.
Location
The high Pusteria Valley - Hoch Pustertal is located half in italian territory, in the Alto Adige region and half in Austrian territory, and it is mostly inhabited by people with german culture and german language.
There are 5 villages in its italian part:  Sesto, San Candido, Dobbiaco, Villabassa e Braies (Sexten, Innichen, Toblach, Niederdorf e Prags their german names). 
Here some distances between San Candido and the main points of interest

| | |
| --- | --- |
| San Candido/Innichen - Brunico/Bruneck | 31 km |
| San Candido/Innichen - Cortina D'Ampezzo | 37 km |
| San Candido/Innichen - Bolzano | 105 km |
| San Candido/Innichen - Innsbruck | 137 km |
| San Candido/Innichen - Verona | 257 km |
| San Candido/Innichen - Venezia | 266 km |
| San Candido /Innichen - Monaco di Baviera | 293 km |
| San Candido/Innichen - Milano | 436 km |
How to get there
High Pusteria valley can be reached:
by car

driving on the motorway

A 22 Modena - Brennero

. Take the exit Bressanone and follow the signs to Brunico and to San Candido.

by train

getting to Bolzano from Naples and Rome with Frecciargento trains that stop in Florence, Bologna, Verona and Trento; or you can get to Verona from Milan, Turin, Venice, Trieste and Udine with Frecciabianca trains and then take the train from Verona to Bolzano. Once you are in

Bolzano

take an Alto Adige regional train to Fortezza (40 minutes travel), and a train from Fortezza to San Candido in an hour and half. Tickets are available online, in authorized points of sale like railway stations or in vendor machines. 

by bus

with Flixbus or Autostradale from the main cities. Tickets online.
The nearest airports are those of Verona, Venice, Bolzano and Monaco di Baviera.
Accomodations
In this amazing valley, as in all the dolomites area, accomodations like apartments, hotels and bed & breakfasts are just 
charming and have very high standards. Endless are the possibilities to find a good place to spend your holidays and you'll be always satisfied because of great mountain views, wood smelling rooms, wellness areas and great cuisine. 
Some suggestions in San Candido:
Hotel & Residence Rainer Eggele
Can't you find what you are looking for at the right price ? Contact me and I'll try to help you.
Anyway you can check in the box below as well
One week tour
| | |
| --- | --- |
| day 1 | arrival and visit of San Candido (Innichen) |
| day 2 | hiking tour of the "Tre Cime di Lavaredo" |
| day 3 | Braies Lake and Foresta hut (Grunwaldalm) |
| day 4 | Sesto's Dolomites: Zsigmondy Comici hut - Pian di Cengia hut - Locatelli hut |
| day 5 | Relax time. Visit of Brunico and swimmingpool and wellnes center day |
| day 6 | On a bike along the San Candido - Lienz bicycle path |
| day 7 | shopping and go back home |
Day one
I suggest you to settle down in San Candido because it's a lively little village from which it's easy to reach the most interesting places to visit and from where you can start your excursions.
The day of your arrival you can start to visit San Candido and its surroundings.
Here are the highlights
Gigante Baranci hut
At "Rocca dei Baranci"'s feet (2966 m asl), San Candido's symbol mountain, there's this beautiful hut: one of the most appreciate destinations from families with children. You can reach it by chair lift or on foot in 1 hour ( + 314 m in height).
Here are chair lift prices and timetable:
from may 25 to june the 1st : 9.00 am - 5.30 pm
from july the 2nd to september the 3rd: 9.00 am - 6.30 pm
from september the 4th to october the 8th: 9.00 am - 5.30 pm
One way ticket: adults 8.50 euros - children 6.00 euros - groups 7.50 euros
round trip ticket: adults 11.80 euros - children 8.20 euros - groups 10.60 euros
At your arrival you'll find a beautiful playground for children also with climbing walls just to test their ability, a little lake, a relax area and the main attraction, the fun bob, a summer bobsleigh track to enjoy an exciting downhill ride.
Fun bob prices:
1 ride    8.50 € adults -  6.00 € children
3 rides  19.90 € adults - 13.90 € children
5 rides   28.90 € adults - 20.20 € children
It is also possible to combine the uphill with the chair lift and the downhill with the fun bob
1 ride   15-90 € adults -  11.10 € children
3 rides   37.20 € adults -  26.00 € children
5 rides   54.00 € adults -  37.80 € children
The Dome "La Collegiata"
This is the most beautiful romanesque architecture church of the eastern alps.
You can visit it every day from 8.00 am to 6 pm. The entrance costs 5 euros for adults while it's free for children up to 14 years old.
In summer, from june to october, there are guided tours of the Dome and the St Michael church every friday at 4 pm. The meeting point is at the San Candido tourism association.
The water park "Acquafun"
Near the town centre, there's "Acquafun", the water park in San Candido where you can have a lot of fun and enjoy some relax.
In the pool area there's a 25 m long swimmingpool, a fun pool with water jets and falls, a 75 m long water slide, a baby pool and an outdoor green area. In the wellness area, a peacefull oasis  where children are not admitted, there's  a finnish sauna,  a steam bath, a bio sauna, a herbal bath, an infrared sauna, a whirlpool, a kneipp circuit, a relax area and a panoramic terrace.
Here are Acquafun timetable and prices.
Pedestrian area
It's what makes San Candido so special. The tiny town centre is very charming, with fancy traditional architecture buildings with balconies embroidered with multicolored flowers, high quality sport shops, typical products shops and gift shops, lots of bars and restaurants where to enjoy the tasty traditional cuisine or just a slice of apple strudel or a slice of buckwheat cake.  
I want to remind you that in this remote corner of Italy Hugo, made with prosecco, elderflower syrup, soda water and mint leaves, well compete with Spritz (aperol or campari with prosecco, soda water, and a slice of orange) during aperitif time. Don't miss it.
Day two
On your second day it's time to go deep inside the heart of the Dolomites, it's time to hike around the most famous and stunning rock formations: the Tre Cime di Lavaredo.
If you want to get there with your car you have to drive to Dobbiaco and then follow the sign to Misurina. You'll be there in 30/40 minutes. In Misurina you'll get the road that lead to Auronzo hut: this is a curvy toll road 7 km long, it is open from may the 13th to november the 12th.
Here the fees including parking for the whole day:
Cars: 25 € + 7 € for each day added
Motorbikes: 15 €  + 3 € for each day added
Coaches under 30 seats: 50 € + 24 € for each day added
Coaches over 30 seats: 105 € + 48 € for each day added
Caravans and Campers: 40 € + 18 € for each day added
If you don't want to use the car you can take the train from San Candido to Dobbiaco and the bus no 444  from Dobbiaco to Auronzo hut.
Since this summer it's been working a convenient shuttle service leaving from Sesto to Auronzo hut at 8.30 am in june and september and at 8.00 am in july and august.
There are only 50 seats available and you have to book your trip not later than 5 pm of the previous day at the Sesto tourism association calling telephone number 0474 710310 or sending an e mail to info@sesto.it.
The shuttle costs 10 euros per person and it's free for children under 13 years old. You can also bring your dog with leash and muzzle (5 euros).
This Shuttle sounds to me a good idea. A family of 4 people, two adults and 2 children under 13 years old pay 20 euros against 25 euros for the toll road. So you can save a little money and fuel, you don't have to drive, and you don't have any impact on traffic and environment.
Hiking tour around the Tre cime di Lavaredo - Drei Zinnen
Departure:  Auronzo hut  (2330 meters above sea level) 
Arrival: Auronzo hut  (2330 meters above sea level) passing by Lavaredo hut, Locatelli hut and Lange hut (Langealm)
Difference in heigh: + 400 meters
Trail: no 101 and no 105 
Lenght: 9.5 km
Hiking time: At about 3 hours
This tour is a must do if you  are really into hiking and you love mountains. It is a circuit everybody can do because there aren't difficulties and the track is not steep.
The excursion starts at Auronzo hut. Follow the track no 101 , a flat path that leads you in 20 minutes at Lavaredo hut.
Along this track you can see the most famous dolomite peaks like Cadini di Misurina and Monte Cristallo.
From Lavaredo hut get uphill to the Forcella lavaredo (2454 meters above sea level) where you can see the northern walls of the Tre Cime, the most famous and the most photographed.
From Forcella Lavaredo go on towards Locatelli hut, hiking on the higher path that goes flat at the monte Paterno's feet. 
It's difficult to say how much time this path takes, it depends on how many stops you do to take pictures, but I can tell, in about 50 minutes you could get into Locatelli hut and enjoying tasty dishes like canederli in broth, a slice of apple strudel  and a Forst bier.

After your lunch and a little bit of rest you are ready to go on with your circuit. Follow the track no. 105 to Lange hut (Lange Alm). If you need a break there you'll find homemade yogurt with honey or blackberries, but take it for granted, the chocolate cake with a glass of milk will make you forget your tiredness.
Now get back on the path, the circuit is almost finished. The track goes on the right side of the Tre cime and get over them so you can go back to Auronzo Hut.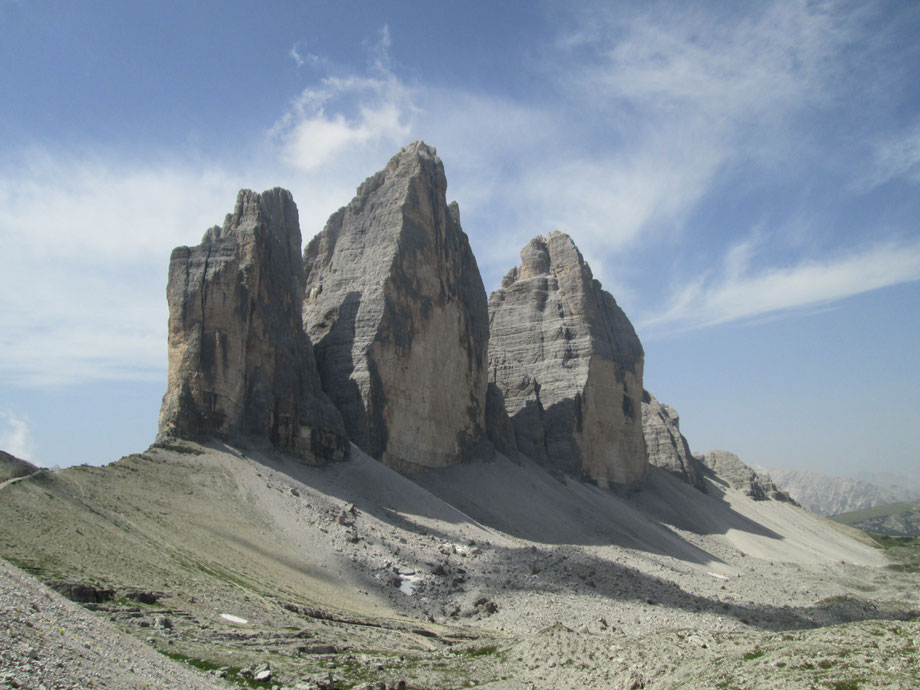 Day three
On your third day enjoy Lake Braies, an amazing alpin lake famous all over the world located in the village of Braies at 1496 meters above sea level. The Croda del Becco (2810 meters above sea level) in Croda Rossa mountain group, reflect in its crystal clear and emerald waters bringing to life a great nature show.
This is a beloved destination due to its beauty and  to the easy way to go there. During summer season it gets crowded and lose a bit of glamour, but it's worth a visit if you want to have a rest day in the middle of nature.
From San Candido you can go to Braies by car in 30 minutes (20 km), the parking costs 6 euros per day.
If you choose not to use your car you can go by train from San Candido to Villabassa (9 minutes travel - 1,50 euros) and the bus no 442 from Villabassa to Lake Braies (20 minutes travel - 4 euros).
Once you get there you can have a walk around the lake (3 km), rent a rowboat (11 euros 30 minutes, 17 euros 1 hour, and 5 euros for every 15 minutes added), or simply have a nap or sunbath on a lawn or on a sandy shore.
If you want to stay away from crowded places take the path on the right side of the lake and follow the signs to the track no 19. It will leads you to Foresta hut (Grunwaldalm) in 20 minutes on easy ground. There you'll find the chance to taste a very good tyrolean lunch.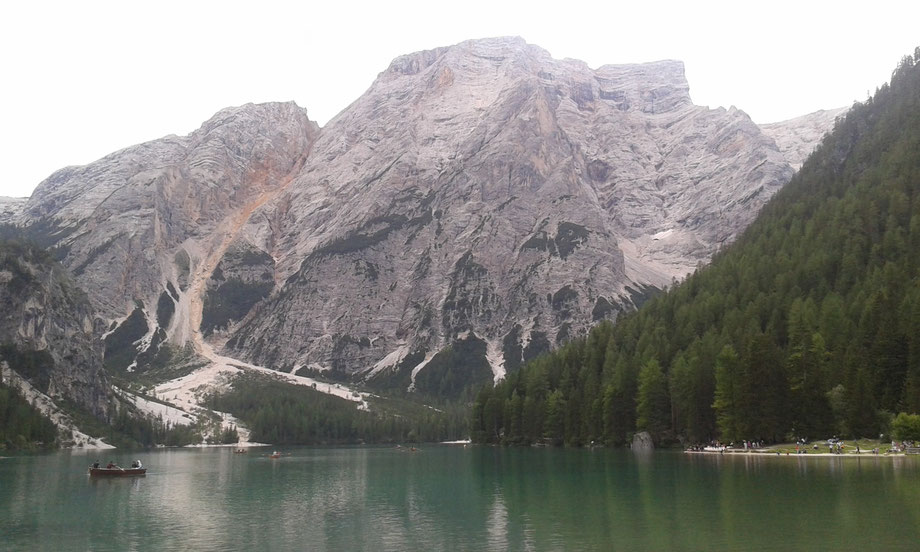 Day four
I suggest you to spend your 4th day hiking around a wonderful circuit in the heart of the stunning Sesto (Sexten) Dolomites. If you are used to long hikes and you are well trained you won't have problems  doing it all. 
Sesto Dolomites are also known as Sesto sundial, because this mountain chain, consisting in 5 peaks, peak nine, peak ten (Croda Rossa), peak eleven, peak twelve (Croda dei Toni) and peak one,works exactly as a clock. During winter solstice the sun, from 9.00 am to 1.00 pm is exactly over the correspondent peak. So from Moso (near Sesto) you can sea at midday the sun over peak twelve and at 1.00 pm over peak one.
Excursion itinerary
Departure: Dolomitenhof hotel - parking lot – Moso  (1454 m asl)
Arrivo: Dolomitenhof hotel - parking lot – Moso  (1454 m asl)
Stages: Fondo Valle hut (1548 m slm) – Zsigmondy – Comici hut (2224 m asl) – Pian di Cengia hut (2528 m asl) – Locatelli hut (2405 m aslm) – Fondo Valle hut (548 m asl).
Difference in heigh: 1074 D +
Trail: no 103 – no 101 – no 102
From San Candido you can reach Sesto and its hamlet Moso by car or by bus no 446 (3 euros - 30 minutes travel).
At the toll parking  in front of the  Dolomitenhof hotel follow the sign to Fondovalle hut along the wonderful Fiscalina Valley. From Fondovalle hut follow the track no 103 and you'll get to Zsigmondy – Comici hut (2224 m asl) in about 2.5 hours and to Pian di Cengia hut (2528 m asl) in one hour more. Get some rest and have a yummy goulash soup.
After lunch go downhill on track no 101 until you reach Locatelli hut (remember ? It's exaclty where you were on your second day) just in front of the northern walls of the Tre Cime di Lavaredo. From Locatelli hut take the track no 102 and go downhill to the Fondovalle hut and the dolomitenhof parking lot closing your circuit.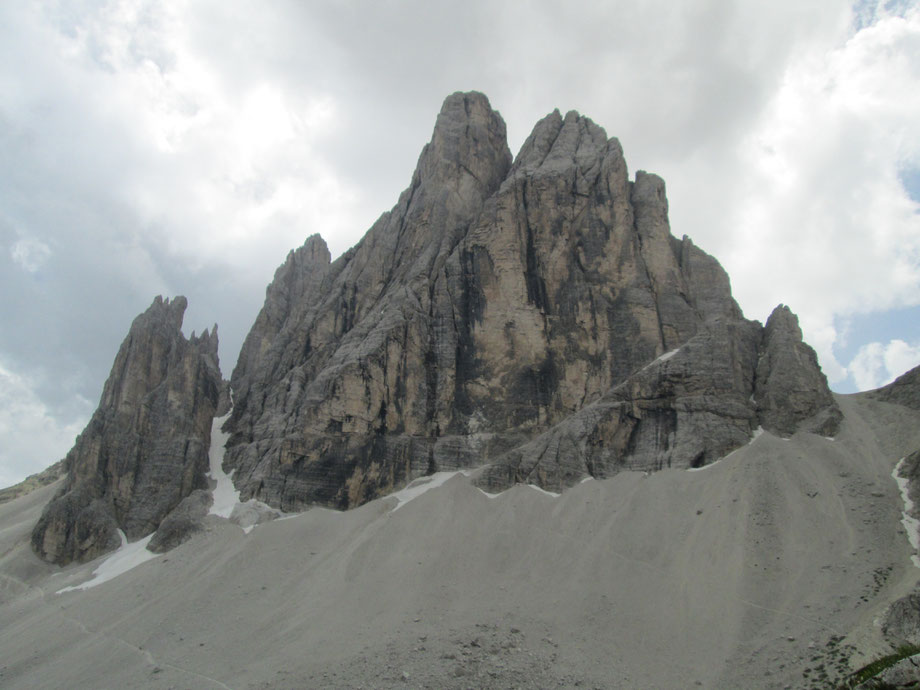 Day five
After so much hiking it's time to have some relaxing time. You could visit Brunico – Bruneck and then spend the rest of your day in the swimming pool and wellness centre Cron 4.
Brunico, 32 km far from San Candido, can be reached by car or by a regional train (40 minutes travel – 5 euros). It is one of the most beautiful towns in the Alto Adige region because it preserve its ancient medieval origins. You can dive to downtown through doors and find yourself in a charming pedestrian area , with fancy shops and refreshments spots. The riverside is also fascinating and it's worth a stroll.
Another highlight is the Brunico's Castle, situated on a hill overlooking the whole town. A castle's wing host the mountain climber Reinhold Messner's museum.
After a short visit of Brunico it's time to experience the perfection of Tyrolean sports and wellness centres.
Cron 4 in Riscone di Brunico (a couple km far from Brunico) will outdo your expectation. It's really awesome.
The   swimming pools area is composed by 5 pools: a sport pool a fun pool, an active pool, a baby pool and an outdoor pool. The last one is surrounded by a green area with sunbeds and umbrellas.
The weelness area is a dream. Privacy and calm are guaranteed  because it's a silence area. It is composed by an open air cold water swimming pool surrounded by alpine tiny huts that host different saunas with different temperatures (80°C – 90° C – 100° C) and different fragrancies like aromatic herbs or fresh hay. You can also enjoy steam baths, infrared cabins, a kneipp step pool, a kneipp arm bath, relax rooms with beds and wool blankets, 4 heat houses with infrared radiation. There's also a lawn with sunbed where you can have some relax time in the sun during lovely summer days. I'd like to let you know that the wellness centre is a nudity area, you can't wear your swimmingsuit. You just need two towels and a pair of flip flops.
If you are not used to it you'll feel a little embaracced in the first 10 minutes. Then you'll feel free and relaxed. Believe me.
Day 6
You'll never get bored in Hight  Pusteria Valley. It's time to ride a bike along the bicycle lane from San Candido to the Austrian town of Lienz. Just over 40 kilometres…but don't worry, they are  in very soft downhill so everyone can do it !
You can rent a bike in San Candido at Trojer Martin shop (address Via Duca Tassilo 2).
Opening hours:
From 8.30 am to 1.00 pm
And from 2 pm to 7 pm
Prices are from 14 euros in law season to 18 euros in high season.
Along the bicycle lane, following the Drava river, you'll get through breathtaking landscapes, bell towers with red roofs, thick woods and green meadows. The tarmac road is easy and only few times you'll have to cross streets with traffic.
Arrived in Lienz you can leave your bike there if you pay 6 euros extra. After visiting Lienz you can get the train from Lienz station and come back to San Candido. The one way ticket costs 9.70 euros. Otherwise you can bring your bike with you on the train in a special carriage.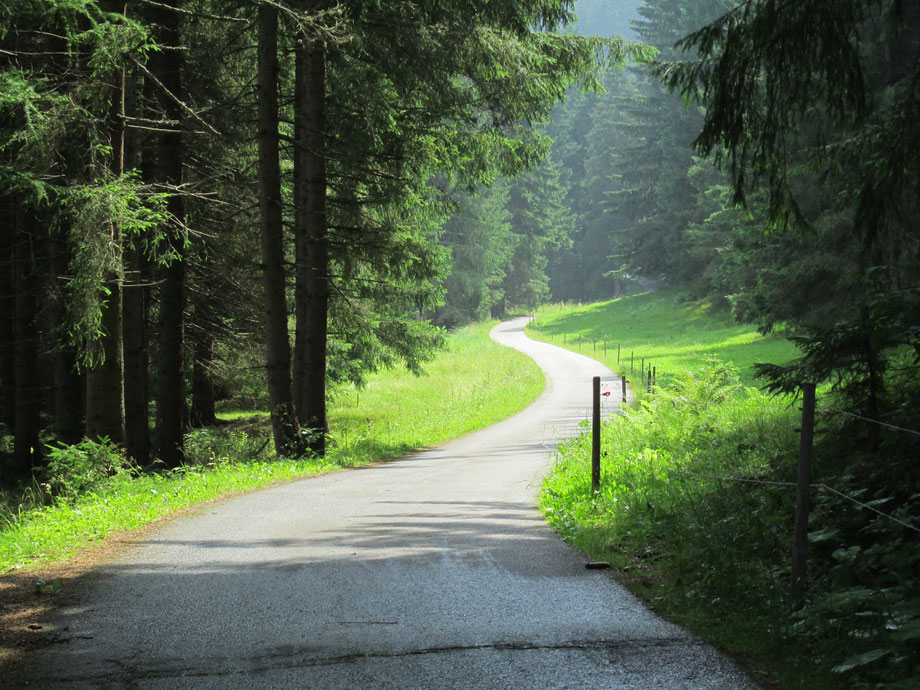 Day 7
There it is…your last day.
Don't forget to spend  some time trying to bring home with you a piece of High Pusteria Valley. So let's have some shopping  of typical local products. I usually don't miss to buy an entire apple strudel because I like to share it with family and friends  who stayed at home and a good piece of speck. And you ?
What are you going to bring with you ?
 To the next adventure…to the next itinerary !